EXPERIENCE LUTHERAN EDUCATIONAL EXCELLENCE!

In a recent study, the U.S. Department of Education ranked the Lutheran Education system highest academically among all other schools, including Public, Catholic, Charter, or other Private schools. Lutheran school students test 23% higher than the national average on standard achievement tests.
(Brekke, M., Youth Research Center)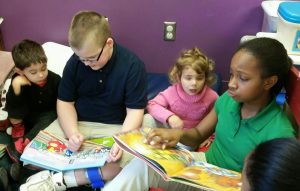 TRINITY LUTHERAN SCHOOL'S CURRICULUM
Trinity's curriculum meets all the standards set by the State of Indiana and also includes the teaching of the Christian faith, which permeates all other subjects. Trinity is an accredited school through the National Lutheran Accreditation (NLSA) Program. The primary objective of our school's curriculum is to educate each child to learn about the world around them which God has created.
Please review each grade-level group to get a better look at our curriculum.
You may also wish to email our teachers for specific curriculum questions.
You can contact them here.
CONTINUING YOUR CHILD'S EDUCATION
Trinity encompasses your child's education from Preschool through 8th Grade. After 8th Grade, many of our students continue their education at
Lutheran High School of Indianapolis.